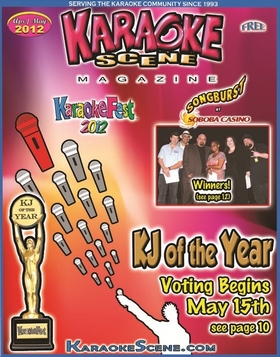 What's New: Our SongBurst 2012 competition ("SongBurst at Soboba") has come to a climactic close on March 27th and was a fantastic success. Karaoke Scene would like to thank the fine people at the Soboba Casino for everything they have done to make this such a great event. Thanks also to radio stations X103.9, KCXX (The X) and 101.3 KATY (The Mix) for their support and the assistance of their on-air personalities, Bob Madden & Big Tad at each contest round. For more on the contest, including the winners, please visit: http://songburst.com
KaraokeFest 2012 is coming on Saturday, September 8th at the fabulous L.A. County Fair in Pomona. By popular demand, KaraokeFest will again be held on a Saturday so we can all celebrate during our day-long Karaoke party on Saturday and then have a whole day to relax and recharge our batteries on Sunday. Remember, the "Fair" is open on Saturday, 10am – midnight. All of the details for KaraokeFest 2012 will be available at KaraokeScene.com and in our coming June/July issue.
As KaraokeFest approaches, we are nearing the time for the "Oscars" of Karaoke, the "KJ of the Year Awards." These awards are so important because they provide a way to honor the KJs whose special contributions to Southern California Karaoke deserve to be recognized. Whether it is great song selection, outstanding sound system, fairest rotation, entertaining personality or just overall a provider of a most special Karaoke experience, the "extras" provided by the nominees in their prospective areas make Karaoke better for all of us. So please be sure to vote for your favorite KJ…they deserve it!
Please bear in mind that the more votes that are cast, the more representative the results. You may vote online at KaraokeScene.com. The voting begins on May 15th and ends June 30th. In the interest of fairness, only one vote per email address and two votes per IP address will be accepted. Again, the "KJ of the Year Awards" depend on YOU, the Karaoke community, to participate and let those KJs who are worthy know that you appreciate their efforts. They are there for you; please be there for them!
COMING SOON, the king of all Karaoke singing contests…in early July, the fabulous "Creme de la Creme" singing competition will explode with singers from all over Southern California (and beyond) competing for thousands in cash and prizes and the coveted title of "Male & Female Karaoke Vocalist of the Year" plus all that goes with it. As many of you know, our 2009 Male Karaoke Vocalist of the Year winner went on to win $250,000 at Oprah's Karaoke Challenge on national television; and our 2010 Male Karaoke Vocalist of the Year, Clint J. Gamboa, made it to the top 24 on American Idol.
Also coming soon, the Creme de la Kids junior singing competition for those 17 years old and younger. And in August comes the colorful and exciting Creme de la King competition for all Elvis impersonators.
Don't miss your chance to compete and become a singing star! All of the details for all contests will be available at KaraokeScene.com and in our coming June/July issue.
We are currently in the process of selecting the venues for our KaraokeFest 2012 singing competitions, the Creme de la Creme, the Creme de la Kids and the fabulous Creme de la King. The number of hosting locations is limited so if you would like your venue to be considered, please contact Karaoke Scene at the number or email address listed below before May 1st.
Sponsorship positions for KaraokeFest 2012 are also available to qualified companies.
For sponsorship information, contest venue information or to reserve your "Expo" booth, please call (714) 826-2212 or email us. Space and time are limited so be sure to contact us now!
Please take a moment to subscribe now to the "Digital Edition" of Karaoke Scene Magazine. The "DE" offers everything that appears in our print edition and much more. And it is always available to you online 24-7. Go to www.KaraokeSceneMagazine.com to subscribe now. And best of all, it's FREE!
And don't forget, apps for your iPhone and iPad are available at the App Store. Now you can have instant access to Karaoke Scene Magazine 24-7, right in the palm of your hand, wherever you are. Want to know who offers Karaoke shows on a given night? Grab your iPhone or iPad and check it out. Want to review an article or check out an ad for a product or service? Grab your iPhone or iPad and check it out. Is that just too cool or what? These apps are currently FREE, so what are you waiting for?
Leave a Reply
You must be logged in to post a comment.