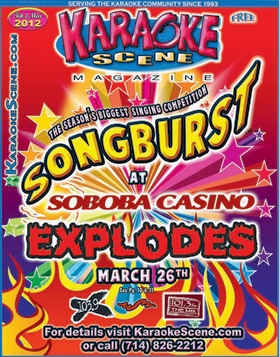 Guess what? It's "SongBurst at Soboba" time! Karaoke Scene is once again very proud to be presenting this year's SongBurst singing competition at the Soboba Casino, "Where winning is just the beginning." We are excited to again have 2 fabulous radio stations on board for this event as well, X103.9, KCXX (The X)…an alternative rock radio station based out of San Bernardino and 101.3 KATY (The Mix)…an adult contemporary radio station based out of the Temecula Valley. These are great folks to work with and help make "SongBurst at Soboba" a really terrific event.
The excitement begins on Monday, February 27th and continues every Monday for 4 weeks (March 5th, 12th and 19th.) This will be an adults only competition (all contestants must be 21 years of age by February 27th, 2012). Sign-ups will be from 6pm to 7:30pm. The competition will begin shortly after the sign-ups are closed. Due to time restrictions, we can only allow the first 40 contestants to arrive to sign-up and compete in that night's competition. Sign up rules (and times) will be strictly enforced so please leave yourself plenty of time to get there.
There will be thousands in cash and prizes with $2,500 cash for first place awarded at the finals which will be held on Monday, March 26th. Not only that, but there will be more prizes raffled off during the competitions for which all in attendance (competitors and audience alike) will be eligible.
For those of you who may not know, Soboba Casino is nestled in the foothills of the San Jacinto Mountains and is your one-stop headquarters for California gaming and entertainment. Soboba features 2,000 slot machines, over 20 table games, two restaurants, a 12,000 seat entertainment pavilion and one huge sports lounge. Guest services stations are easily located at each entrance and exit throughout the casino. Casino employees are happy to provide any assistance or information you might need.
For more "SongBurst at Soboba" information, please see pages 10 and 1, call (714) 826-2212, or visit KaraokeScene.com.
Directions: The Soboba Casino is located at 23333 Soboba Rd. in San Jacinto (866) 4-SOBOBA (476-2622). Take Highway #215 south to the Ramona Expressway east to Soboba Casino; or take Highway #10 east to Highway #79 and go south to the Ramona Expressway then left to Soboba Casino.
These competition Mondays should be great fun for everybody, both singers and their friends and families. There is plenty to do at Soboba Casino so drive down early, relax and have a great time!
We are now accepting venues for this year's KaraokeFest singing contests. This is the perfect way to bring attention and new business to your venue. If you are interested in being considered as one of the KaraokeFest 2012 singing contest venues please call (714) 826-2212 or email us at info@KaraokeScene.com and we'll fill you in on all of the details. Please contact us soon as we only have a limited number of opportunities available.
Karaoke Scene would like to thank the Karaoke community for all the photos you are sending to us for publication. We sincerely appreciate your efforts. Please continue to send us your pics so we can publish them in future issues. Attention KJs…it's a great public relations idea to take photos of your customers while they are singing at your shows and send them to us for publication. Karaoke folks love to see their pictures in the magazine. When sending photos please remember:
Photos must be in a digital format (jpeg files); no prints.
Your photos should be about singing.
Make sure your photos are as sharp and clear as possible (please don't reduce their size).
 Please send your photos by email to photos@KaraokeScene.com or, if you have a bunch of them, please put them on a CD and mail them to:
Karaoke Scene
PO Box 2633
Cypress, CA 90630
For all you KJs out there, our "KJ Directory" at KaraokeScene.com is the perfect way to promote your business. People from all over are constantly checking it out to find Karaoke hosts when they need one. And now you can join for only $25 for a whole year. This is a real bargain! Don't miss out on this great opportunity! Join now!
Don't forget, our newest innovation, apps for your iPhone and iPad are now available at the App Store. Now you can have instant access to Karaoke Scene Magazine 24-7 right in the palm of your hand. Want to know who offers Karaoke shows on a given night? Want to review an article or check out an ad for a product or service? A couple of taps on your iPhone or iPad and you can check it all out instantly. What could be cooler than that? Okay, it's FREE…that's pretty cool, too. Visit the App Store and get yours today!
And if you haven't already done so, be sure to subscribe to the sensational "Digital Edition" of Karaoke Scene Magazine. The "DE" offers everything that appears in our print edition plus much more! And it's all just a click away. Just visit KaraokeScene.com to subscribe now. And here's the best part…it's FREE!
That's it for now…
See you all at the season's biggest singing competition, "SongBurst at Soboba." And best of luck to all!
Leave a Reply
You must be logged in to post a comment.