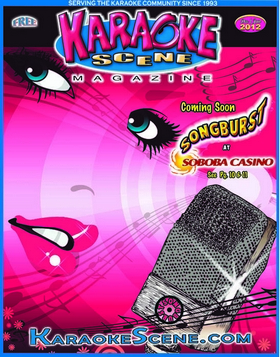 Karaoke Scene is once again very proud to present "the season's biggest singing competition," SongBurst at the Soboba Casino, "where winning is just the beginning." We are also excited to have our 2 favorite Inland Empire radio stations on board for this event as well, X103.9, KCXX (The X)…an alternative rock radio station based out of San Bernardino and 101.3 KATY (The Mix)…an adult contemporary radio station based out of the Temecula Valley. These are great folks to work with and to help make "SongBurst at Soboba" such a fabulous event.
The excitement begins on Monday, February 27th and continues every Monday for 4 weeks. There will be thousands in cash and prizes with $2,500 cash for first place awarded at the finals. Not only that, but there will be more prizes raffled off during the competitions for which all in attendance (competitors and audience alike) will be eligible.
These competition Mondays will be great fun for everybody. There is plenty to do at Soboba Casino so drive down early, relax and have a great time!
For more "SongBurst at Soboba" information, please see pages 10 and 11, call (714) 826-2212, or visit KaraokeScene.com.
The "Digital Edition" of Karaoke Scene Magazine is proving to be hugely popular among Karaoke enthusiasts around the world. For those of you who haven't tried it yet, it is a really cool experience. All of the features of the printed edition plus live links to advertisers, products and special videos, etc. It is the best way to explore the world of Karaoke, any time you wish, right from your computer. Try it…it's free!
And then there's our newest innovation, apps for your iPhone and iPad are now available at the App Store. This means that you can have instant access to Karaoke Scene Magazine 24-7 wherever you are. Want to know who offers Karaoke shows on a given night? Grab your iPhone or iPad and check it out. Want to review an article or check out an ad for a product or service? Grab your iPhone or iPad and check it out. What could be cooler than that?
Our "Singer's Showcase" at KaraokeScene.com continues to kick Karaoke (you know what) with singers all around the world. If you haven't checked it out yet, you should because you have really been missing a great time. It's like an online Karaoke party. The next time you visit KaraokeScene.com, click on the Singer's Showcase link to see what's going on there and join in the fun!
Attention all you KJs out there, the "KJ Directory" also at KaraokeScene.com is the perfect way to make sure that everyone in the entire Karaoke world knows about you and your Karaoke shows…who you are, where you are and what you can offer in the way of services. At only $25 for a whole year, it's a terrific bargain!
Want to see yourself and your friends in Karaoke Scene Magazine? Well here's how. We are accepting photos from the Karaoke community at large for publication in future issues of Karaoke Scene. The "photo page" reigns as one of the most popular features in Karaoke Scene Magazine. People are always checking it out to see if they (or one of their friends) are in it. Could you be next? All you have to do is send us your photos and we will publish them in a future issue. It's that simple! Here are just a few suggestions:
Your photos should be about singing.
Please make sure your photos are sharp and clear.
Please be sure your photos are in a digital format (jpeg files); no prints.
Please send your photos by email to photos@KaraokeScene.com or, if you have a lot of them, please put them on a CD and mail them to:
Karaoke Scene
PO Box 2633
Cypress, CA 90630
Karaoke kongratulations!!! Three time KJ of the Year winner for Orange County, Donna Thomas has raised over $27,000, a phenomenal amount of money, for the Children's Hospital of Los Angeles during her annual gala fundraiser at the TomKat Lounge in Buena Park. Karaoke Scene salutes Donna Thomas and all of the many folks who unselfishly give so much of their time and money every year to help these children who need it so much.
Finally, at this special time of year, it is good for all of us to reflect on the many blessings we receive but take for granted. Try to do a kindness to someone who may need a little boost. Take a step back and maybe let another person have their way about something. Try sharing the gifts of "love and kindness, warm hearts and an outstretched hand of tolerance" this holiday season. Do this, and it will surely come back to you many times over.
All of us at Karaoke Scene Magazine wish you the happiest of holidays and a prosperous, song-filled New Year!
Leave a Reply
You must be logged in to post a comment.