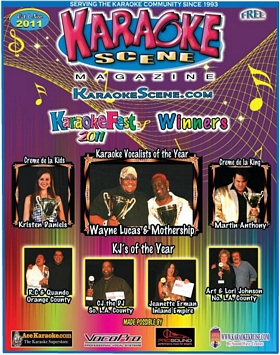 With huge crowds and exceptional singing performances, KaraokeFest 2011 has now come to a close. But what a day…the biggest and best KaraokeFest ever!
First of all, we would like to thank our major sponsors, Ace Karaoke, VocoPro, ProSound and Karaoke Kruise for their generous support of this event. These fine companies make it possible to have this day-long celebration of Karaoke every year for all of us to enjoy. Please show them your support for all they do for Karaoke.
And then there are our prize sponsors, Ace Karaoke, ProSound, VocoPro, Sound Choice and Chartbuster. The generosity of these companies speaks for itself and they are also certainly deserving of everyone's support.
The overflow crowd was treated to an exciting day of fantastic singing and entertainment! The children in the Crème de la Kids contest wowed the crowd with just about every genre of song from Rock to Show Tunes. The Crème de la King competitors were next paying tribute to the memory of Elvis as they graced the stage with their colorful costumes and exciting renditions of some of the King's most beloved tunes. And, of course, the Crème de la Creme Finalists rocked the Plaza de las Americas Stage for nearly 5 hours with terrific, concert quality performances.
Special thanks go to the multi-talented Marshall Thomas of KFROG 95.1 FM for another fine job of hosting the Crème de la Crème Finals Competition again this year. Thanks also to our good friend, Manny Pacheco, the best event emcee that anyone could ask for. And in his 2nd year at KaraokeFest, the popular host of "What's Up Orange County," Scott Stewart, hosted the Crème de la Kids and Crème de la King Final Competition. Thank you, Scott for another excellent job! And our gratitude goes to Crème de la Kids coordinator, Candice Worl and to Crème de la King Coordinator, Tony Christina, for their tireless efforts in making the dream come true for all of their talented contestants.
And HUGE thanks go to every single one of the gracious volunteers who gave so much of their time and energy to make KaraokeFest such a special event for everyone. We are deeply appreciative of your efforts.
Don't forget that, for a limited time, you can purchase your own professionally produced DVD of all of the exciting shows at KaraokeFest this year…a perfect memento of all the fabulous performances that made KaraokeFest 2011 such an entertainment extravaganza. The Crème de la Kids and Crème de la King DVDs are only $20 each and the Crème de la Crème DVDs are only $30, or you can order all 3 for only $60 (all prices are +S&H). Order yours today right here at KaraokeFest.com or by calling (714) 826-2212.
Our gratitude also extends to our fabulous Karaoke Stage hosts at KaraokeFest this year, Ace Karaoke, Helen Scheuplein and Christine Wheeler. These special people make KaraokeFest so much fun for everybody all day long and they are truly appreciated.
DONT FORGET! Apps for Karaoke Scene Magazine are now available for your IPhones and IPads. Now you can have all of the features and information in Karaoke Scene Magazine right at your fingertips, wherever you go, 24-7. I already use it on my IPhone and it's fantastic! The apps are FREE so visit the App Store today and get yours now!
For all you KJs out there, our "KJ Directory" at http://karaokescene.com/kj_directory/ is the perfect way to promote your business. People from all over check it out to find Karaoke hosts when they need one. This is your chance to advertise your KJ business to the entire Karaoke world. For a limited time you can still join for only $25 for the first year. What a bargain!
And if you haven't already done so, be sure to subscribe to the new "Digital Edition" of Karaoke Scene Magazine. The "DE" offers everything that appears in our print edition plus much more! And it is always available to you online 24-7. Just click on this link http://karaokescene.com/order_magazine/ to subscribe now…and best of all, it's FREE!
By the way, Manny Pacheco's book, "Forgotten Hollywood – Forgotten History," (an amazing study of some of the most important character actors and actresses from Hollywood's Golden Years and their relationship to American historical events) continues to sell across the country at major retailers (Costco, Barnes & Noble, Amazon.com and many other locations). We highly recommend this book to everyone, either for yourself or as a perfect gift for a friend or loved one (Christmas is coming). You can check it all out at www.ForgottenHollywood.com.
And finally, if you live in Southern California and are looking to make some extra money in your spare time, we are looking for ad sales reps for Karaoke Scene Magazine. Experience is helpful but not mandatory. If interested, please call (714) 826-2212 or contact us