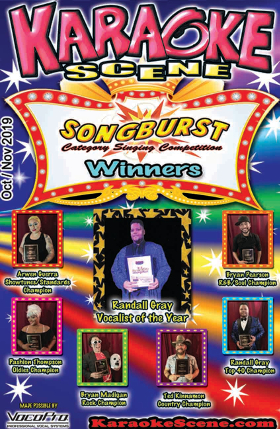 SongBurst 2019 was a blast! As most of you know, this was a "category" singing competition featuring 6 separate and distinct genres of music including: Rock, R&B/Soul, Country, Top 40, Oldies, and Showtunes/Standards. The qualifying rounds took place at 6 individual venues throughout Southern California and lasted most of the summer. The 36 Finalists delivered outstanding performances during the Final Competition at Westminster Lanes in Westminster on September 14th before an elite 5 member panel of judges made up of entertainment industry experts. The capacity crowd enjoyed some of the best singing and entertainment in the Karaoke world!
The individual Category Champions were:
R&B/Soul – Bryan Pearson
Country – Ted Kinnamon
Oldies – Pashion Thompson
Showtunes/Standards – Arwen Guerra
Top 40 – Randall Gray
Rock – Bryan Madigan
And then came the "sing-off." After an exhibition of exceptional performances, Randall Gray became the Karaoke Vocalist of the Year for 2019 with a sensational version of "." If you missed this show, you missed a truly great one.
Special thanks to our esteemed panel of judges:
The Pink Lady (TV personality and musical show producer)
Chaplain Dov Cohen (musical show producer)
Marshall Thomas (Southern California on-air radio personality)
Art Kirsch (Media Specialist)
Tyrone DuBose (R&B Historian)
We wish to warmly thank our major sponsor, VocoPro, for their generous support of this event. This fine company makes it possible to have this day-long celebration of Karaoke every year for all of us to enjoy. Please show them your support for all they do for Karaoke.
And HUGE thanks go to Contest Coordinator and Emcee "Karaoke's Best Friend," Mr. Manny Pacheco, and the generous volunteers who gave their time and energy to help make this year's SongBurst such a special event for everyone. We are deeply appreciative of all your efforts.
We will keep you all informed of next year's singing competition schedule including all ancillary events right here in this publication and at www.KaraokeScene.com, so please stay tuned.
BREAKING NEWS!!!
Next Year's SongBurst Final Competition will be held at The Muckenthaler Cultural Center Theater in Fullerton, CA. This is a first class theatrical venue and something for all singers to look forward to with great anticipation. We are really excited about this new location and will provide more information and details as the event approaches.
MORE EXCITING NEWS…
Sound Choice is making music again! That's right, after a long hiatus, Sound Choice is once again producing new Karaoke tracks, and we think this is great news. Please see the Sound Choice interview on pages 12-14 for more details.
Just a reminder about the "Karaoke deal of the century," PREMIUM MEMBERSHIP! This is by far the best deal ever offered by KaraokeScene.com. For less than the cost of a mocha cappuccino per month, you can have a Premium Membership to KaraokeScene.com for an entire year, and it is packed with benefits! This is a deal you absolutely should not pass up. Be sure to check out all the exciting details by visiting www.KaraokeScene.com.
It's been more than 6 years since Karaoke Scene Magazine went all digital and joined the hundreds of other major publications in providing all of our outstanding content to anyone, anywhere, anytime. Karaoke Scene "Digital" is available by subscription as well as iPhone, iPad and Android apps, and all for FREE. The response has been phenomenal and the result is an enormous number of folks (tens of thousands) who access Karaoke Scene Magazine digitally.
And our advertisers are thrilled as their ads in the digital edition are not only sharper and more vibrant, but become direct links to their own website or email (or both). All of our advertisers are now just one click away from the entire world Karaoke community.
Tell your friends. Don't let them be left out. This is their opportunity to get on board, join the digital revolution, and have Karaoke Scene right at their fingertips 24/7, and all for FREE (at least for now). Just visit KaraokeScene.com or the appropriate "App Store" right now and enjoy your Karaoke Scene whenever and wherever you wish!
To subscribe to Karaoke Scene "Digital" please visit www.KaraokeScene.com. It's FREE!