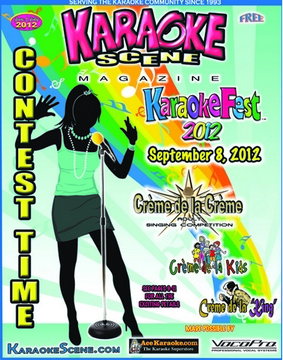 Hey everybody…"IT'S CONTEST TIME AGAIN!" That means the biggest 3 Karaoke singing competitions of the year are about to begin. KaraokeFest 2012 proudly presents the hugely popular and highly prestigious Creme de la Creme singing competition that will be held at 24 venues throughout Southern California beginning on July 5th and continuing through the month of August. This is both the mother and father of all Karaoke contests everywhere, so don't miss your chance to compete for thousands in cash and prizes, your opportunity to perform on the main stage at KaraokeFest 2012 and be named "Male or Female Karaoke Vocalist of the Year."
Many of you will remember that 2009 Male Karaoke Vocalist of the Year, Abraham McDonald, was "discovered" at KaraokeFest and went on to appear on national television and win $250,000 at Oprah's Karaoke Challenge; and 2010 Male Karaoke Vocalist of the Year, Clint Gamboa made it to the "top 24″ on the recently concluded American Idol. Who knows what could happen this year? You could be next!
We are so happy to welcome back radio & television personality (and now author), Manny Pacheco, who will be coordinating this huge event again this year. And remember, you may qualify at as many venues as you wish in order to increase your chances for making the "Finals" at KaraokeFest 2012. All of the "Creme de la Creme" venues are listed in KaraokeFest and the Event Calendar.
Then there are the "Creme de la Kids" singing competition for juniors 17 and under, and the "Creme de la King" singing competition for Elvis singers/impersonators. We are so pleased that Candice Worl is back as coordinator of the "Creme de la Kids" contest and very happy that Tony Christina will again be handling the "Creme de la King" competition. Please see page 9 for all of the exciting details.
Note: Be sure to check out the special late qualifying dates for all three contests at the Orange County Market Place.
All three contest "Finals" at KaraokeFest ("Creme," "Kids" and "King") will again be streamed live to our website, KaraokeScene.com so that anyone, anywhere in the world, can enjoy the program. What a great opportunity for the families and friends of contestants as well as other Karaoke enthusiasts who cannot make it to KaraokeFest to be able to watch the show as it happens. Live streaming will start at noon on Saturday, September 8th.
KaraokeFest would not be possible without the generous support of our sponsors. I would like to take a moment to personally thank the Major Sponsors for KaraokeFest 2012, Ace Karaoke and VocoPro. We sincerely appreciate their support in making this the biggest and best "Fest" ever! We strongly encourage you to show your appreciation to these fine companies and their products.
Here's some more big news! Our completely redesigned world class website, KaraokeScene.com, is now offering the "Karaoke deal of the century," PREMIUM MEMBERSHIP! This is by far the best deal ever offered by KaraokeScene.com. For less than the cost of coffee per month, you can have a Premium Membership to KaraokeScene.com for an entire year with all of its many benefits. This is a deal you absolutely cannot pass up. Be sure to check out all the exciting details on page 2 of this issue.
PLEASE BE SURE TO VOTE! It's that time of year for everyone to support their favorite Karaoke hosts for KJ of the Year in the Southern California area. The KJ of the Year voting has already begun (May 15th) and you may cast your votes through June 30th at KaraokeScene.com. In the interest of fairness, only one vote per valid email address and two votes per IP address will be accepted. Please read and follow the voting instructions carefully when casting your ballot.
Don't forget, our one of our coolest innovations, apps for your iPhone and iPad are now available at the App Store. Now you can have instant access to Karaoke Scene Magazine 24-7 right in the palm of your hand. Want to know who offers Karaoke shows on a given night? Want to review an article or check out an ad for a product or service? Grab your iPhone or iPad and check it out. What could be cooler than that?
And if you haven't already done so, be sure to subscribe to the extremely popular "Digital Edition" of Karaoke Scene Magazine. The "DE" offers everything that appears in our print edition plus much more! And it is available to you online anytime. Visit KaraokeScene.com to subscribe now…and best of all, it's FREE!