Archive for the 'Priddis' tag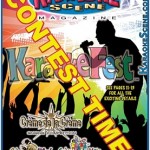 "IT'S CONTEST TIME!" That means it's time for the "BIG 3" KaraokeFest singing competitions to begin. The hugely popular and highly prestigious Crème de la Crème singing competition will be held at 25 venues throughout Southern California beginning on July 2nd and continuing through the month of August. This is the huge one, the most ...
Here's some BIG NEWS! Apps for Karaoke Scene Magazine are now available for your IPhones and IPads. Now you can have all of the features and information in Karaoke Scene Magazine right at your fingertips, wherever you go, 24-7. I already use it on my IPhone and it's fantastic! The apps are FREE so visit the App Store today and get yours now!
KaraokeFest 2010 is now in the books…what a day! With our new stage location at the L.A. County Fair, the crowds were huge and the singing performances superb making this the biggest and best KaraokeFest ever.
First of all, we would like to thank our major sponsors, Ace Karaoke, Priddis Music and VocoPro for their generous support and enthusiasm for this event. These fine companies make it possible to have this day-long celebration of Karaoke every year for all of us to enjoy. Please show your support for them for all they do for Karaoke.
Congratulations and our warmest thanks to all the wonderful people who made KaraokeFest 2002 such a special and successful event. Karaoke absolutely deserves a day like that… and we have even bigger plans for next year! There are so many folks to thank that this page could easily be completely filled with just their names. So ...
Well, it's KaraokeFest time again and what an event this one's going to be! Our staff has been tirelessly working to put together a truly outstanding party for the Karaoke community. On Sunday, May 25th (Memorial Day weekend), the fabulous Queen Mary in Long Beach will once host this fantastic "celebration of Karaoke" in grand ...