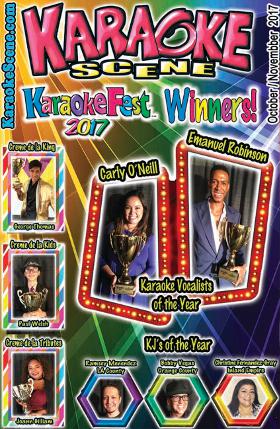 KaraokeFest 2017 was spectacular and amazed audiences both at the Fair and around the world! The entire show (all 11 hours) was streamed to the KaraokeFest Facebook page and was available for viewing by everyone, everywhere, courtesy of Stanley Wilson and his entertainment company "The World Wyde Experience." The video is available for viewing at the KaraokeFest Facebook page: www.facebook.com/realkaraokefest/. And what a show! Maybe the best KaraokeFest ever!
We wish to thank our major sponsor, VocoPro, for their generous support of this event. This fine company makes it possible to have this day-long celebration of Karaoke every year for all of us to enjoy. Please show them your support for all they do for Karaoke.
The capacity crowd enjoyed some of the best singing and entertainment in the Karaoke world! The children in the Crème de la Kids contest were wonderful performing just about every genre of music. Our newest competition, the Crème de la Tributes, showcased artists across the musical spectrum and we look forward to hosting this event again for many years to come. The Crème de la King winner performed a 3 song showcase honoring the memory of Elvis in grand style with elaborate, colorful costuming and exciting renditions of the King's classics. And the adults in the Crème de la Crème Finals again graced the Plaza de las Americas Stage for over 5 hours with inspirational, concert quality performances.
Thanks again to Marshall Thomas of KFROG 95.1 FM for another fine job of hosting the Crème de la Crème Finals Competition again this year. Thanks also to our good friend, Manny Pacheco, the best event emcee that anyone could ask for. And Stan Freese (of Disney Entertainment fame) returned to host the Crème de la Kids Final Competition. Stan took the time to briefly interview each of the "Kids" contestants adding a much more interesting and "folksy" feel to the show. (Again we were reminded of the great Art Linkletter who made this sort of thing an art.) As far as we are concerned, Stan was every bit as good, or even better. Thank you, Stan for doing such an excellent job! And don't forget the multi-talented TV personality, Scott Stewart, who beautifully handled the hosting honors for the Crème de la Tributes Finals, and what a job he did! Also our sincere thanks go to Crème de la King Coordinator, Tony Christina, for his tireless efforts in making the dream come true for all of the talented Elvi and their fans.
And HUGE thanks go to every one of the generous volunteers who gave so much of their time and energy to make KaraokeFest such a special event for everyone. We are deeply appreciative of all your efforts.
Our gratitude also extends to the folks at Historic Main Street in Garden Grove for hosting all of the qualifying rounds for the Crème de la Kids, Crème de la King and Crème de la Tributes contests as well as the finals of the Crème de la King contest at the annual Elvis Fest. Special thanks to Larry and Jennifer of the Azteca Mexican Restaurant in Garden Grove for their tireless efforts in making this all happen. Thanks also to Jill Lloyd, of Jill Lloyd and Associates, for all of her help and support.
And how about our fabulous Karaoke Stage hosts at KaraokeFest this year, KJs United? They worked very hard to make KaraokeFest so much fun for everybody all day long and we want them to know that they are truly appreciated.
Just a reminder about the "Karaoke deal of the century," PREMIUM MEMBERSHIP! This is by far the best deal ever offered by KaraokeScene.com. For less than the cost of a mocha cappuccino per month, you can have a Premium Membership to KaraokeScene.com for an entire year, and it is packed with benefits! This is a deal you absolutely should not pass up. Be sure to check out all the exciting details by visiting KaraokeScene.com.
It's been more than 5 years since Karaoke Scene Magazine went all digital and joined the hundreds of other major publications in providing all of our outstanding content to anyone, anywhere, anytime. Karaoke Scene "Digital" is available by subscription as well as iPhone, iPad and Android apps, and all for FREE. The response has been phenomenal and the result is an enormous number of folks (tens of thousands) who access Karaoke Scene Magazine digitally.
And our advertisers are thrilled as their ads in the digital edition are not only sharper and more vibrant, but become direct links to their own website or email (or both). All of our advertisers are now just one click away from the entire world Karaoke community.
Tell your friends. Don't let them be left out. This is their opportunity to get on board, join the digital revolution, and have Karaoke Scene right at their fingertips 24/7, and all for FREE (at least for now). Just visit KaraokeScene.com or the appropriate "App Store" right now and enjoy your Karaoke Scene whenever and wherever you wish!
To subscribe to Karaoke Scene "Digital" please visit KaraokeScene.com. It's FREE!