KaraokeFest™ 2017, "the greatest Karaoke show on earth," is in its final stages of preparation and excitement is spreading all over Southern California. This year's "Fest" will again take place at the L.A. County Fair in Pomona on Saturday, September 16th. That's right, Saturday. And you know what that means…it means not having to get up the next morning to go to work so we can all party, party, party!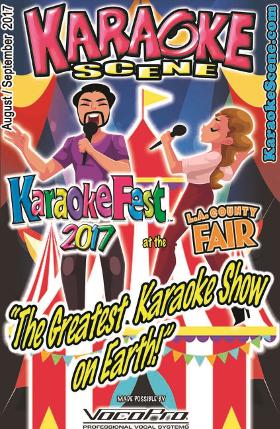 First, Karaoke Scene would like to express our sincere gratitude and appreciation to our major sponsor, VocoPro! KaraokeFest would not be possible without the generous support of this fine company so please reward them with your support.
The excitement begins at 12 noon with the Crème de la Kids Singing Competition Finals. Contest Coordinator, Phill Cross, has once again done a fantastic job of shepherding the youngsters and providing them with this opportunity to show off their talents. You can look forward to some really talented kids competing this year. And the fabulous, multi-talented Stan Freese will be back this year to emcee the Kids Competition at Fest. He is the best! You'll love this show!
At 3pm, the Crème de la Tributes Singing Competition Finalists take center stage. Singers impersonating any and all artists (except Elvis of course) should make this a most memorable competition. We at Karaoke Scene are very excited about this, our newest event, and look forward to this one with great anticipation. The multi-talented Phill Cross is again in charge of this exciting and colorful event, and we're delighted to have him.
ATTENTION! All of the qualifying rounds for the Crème de la Kids, Crème de la Tributes, and Crème de la King singing competitions will take place at Historic Main Street in Garden Grove, presented by the Garden Grove Downtown Business Association. Karaoke Scene is proud to welcome back Historic Main Street to our KaraokeFest singing contests and look forward to a long time relationship with them in future years. Historic Main Street has provided a great venue for these contests and we thank them for all of their support and cooperation.
"Special thanks to Larry Vance (from the Azteca Mexican Restaurant) and Jill Lloyd from (Jill Lloyd and Associates, Inc.) for their diligence and hard work in helping to put this all together."
The qualifying rounds for the Crème de la Kids, Crème de la Tributes and Crème de la King Competitions, held in conjunction with the Local Harvest Farmers Market, will take place on July 30th, August 6th, 13th & 20th (all consecutive Sundays). This year 5 (five) finalists will be chosen each week for the Kids & Tributes contests to compete at KaraokeFest 2017 (no semi-finals). And 3 finalists will be chosen each week for the Crème de la King contest to compete in the Finals at the 18th Annual Elvis Festival on Sunday, August 27th which will also take place on Historic Main Street. If you love Elvis, you will love the Elvis Festival. Be there! Details on pages 8-13.
The Crème de la Crème Singing Competition continues at the 15 venues across Southern California. BULLETIN: There will be two last chances to qualify for the Crème de la Crème Finals at KaraokeFest. Sushi Kawa Sports Bar & Grill at 469 Magnolia Ave #101 in Corona will be hosting Crème de la Crème qualifying rounds on Thursday August 5th, 12th, 19th, 26th, and September 2nd with the Club Final Round on September 9th. Piano Piano at 5555 W. Foothill Bl. in Claremont will be hosting Crème de la Crème qualifying rounds on Monday July 31st August 7th, 14th, 21st with the Club Final Round on September 4th. Don't miss this special late opportunity to qualify! Details on pages 5-7.
You're in store for another fabulous show at KaraokeFest when all of the Crème de la Crème finalists will compete for thousands in cash and prizes and the coveted title of Male & Female Karaoke Singer of the Year. "The Marshall is back in town!" Returning for his sixth KaraokeFest assignment is popular Southern California radio personality, Marshall Thomas, as the host of the Crème de la Crème Finals Competition. The Crème de la Crème finals will begin at 6pm.
In past years some of our Karaoke Vocalists of the Year have gone onto some pretty big things. Male Karaoke Vocalist of the Year for 2009, Abraham McDonald, was scouted by the Oprah Show team at KaraokeFest 2009 and went on to win $250,000 at Oprah's Karaoke Challenge. And 2010 Male Karaoke Vocalist of the Year, Clint J. Gamboa, made it to the top 24 at American Idol. Anything could happen with this year's contestants.
EVERYBODY SINGS! In addition to the main show, there will be open Karaoke singing at the "Blue Gate Stage" located very near the main show stage where anybody and everybody can sing Karaoke all day long and into the night, hosted by "KJs United." We invite all of you to join the fun and sing to the thousands of folks attending the Fair on KaraokeFest day.
Don't forget to check out the KJ of the Year Award nominees listed on page 14. These are extremely talented individuals that have been voted the best by the Southern California Karaoke community at large. The winners will be announced and the awards presented at KaraokeFest by radio and television personality, KJ, and now very successful author, Manny Pacheco. Each of these nominees is already a winner just by having been selected as a nominee from the huge number of KJs in Southern California. The KJ of the Year Awards will be presented at approximately 8pm. It is very important that the nominees be present at the event to receive their awards. Please plan to be on hand to show your support for these talented people who make such a positive impact on your Karaoke experience.
All you need to enjoy all of the special events and activities of KaraokeFest 2017 is a ticket to the L.A. County Fair which can be purchased at the gate or by visiting www.LACountyFair.com. The tickets will be your passport to a thrilling day of the "Fair," singing, deep fried everything and tons of fabulous Karaoke fun! Gates open at 10am and the "Fair" is open till midnight.
See you all at KaraokeFest!