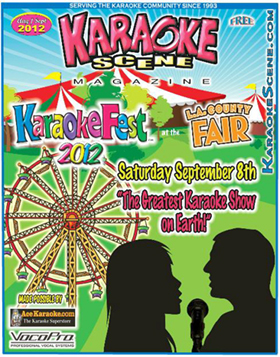 The excitement level is really building for KaraokeFest 2012, "the greatest Karaoke show on earth," and it's spreading all over Southern California. By popular demand, his year's "Fest" will again take place at the L.A. County Fair in Pomona on Saturday, September 8th. That's right, Saturday. And you know what that means…it means not having to get up the next morning to go to work so we can all party, party, party!
First off, Karaoke Scene would like to express our sincere gratitude and appreciation to our major sponsors, Ace Karaoke, VocoPro! KaraokeFest would not be possible without the generous support of these fine companies so please show them your support.
The excitement begins at 12 noon with the Creme de la Kids Singing Competition Finals. Contest coordinator, Candice Worl, and her staff have done a remarkable job of looking after the youngsters and providing them with this opportunity to show off their talents and are there ever some fabulously talented kids competing this year. This show promises be a huge WOW!
At 3pm, the enormously popular Creme de la King Singing Competition Finalists take center stage. We at Karaoke Scene are devoted Elvis fans and always look forward to this one with great anticipation. The incomparable Tony Christina is back as the coordinator of this exciting and colorful event and we're delighted to have him. The qualifying rounds for this contest will begin on Friday, August 10th at the Starting Gate in Los Alamitos and continue through Sunday, August 26th at the Orange County Market Place with 4 more great venues in between. If you like Elvis, make it a point to attend these very colorful and highly contested qualifying rounds.
The multi-talented Scott Stewart, host of the hit TV show "What's Up Orange County," will be back to emcee the Creme de la Kids competition and Karaoke personality, Steve Williamson will make his debut hosting the Creme de la King show. Welcome back Scott Stewart and welcome Steve Williamson!
The Creme de la Creme Singing Competition continues at the 24 venues across Southern California. You're in store for another fabulous show at KaraokeFest when the 48 finalists (24 male and 24 female) will compete for thousands in cash and prizes and the coveted title of Male & Female Karaoke Singer of the Year. And guess what? "The Marshall is back in town!" Returning for his fourth KaraokeFest assignment is popular Southern California radio personality, Marshall Thomas, as the host of the Creme de la Creme Finals Competition. The Creme de la Creme finals will begin at 6pm.
In past years some of our Karaoke Vocalists of the Year have gone onto some pretty big things. Male Karaoke Vocalist of the Year for 2009, Abraham McDonald, was scouted by the Oprah Show team at KaraokeFest 2009 and went on to win $250,000 at Oprah's Karaoke Challenge. And 2010 Male Karaoke Vocalist of the Year, Clint J. Gamboa, made it to the top 24 at American Idol. Anything could happen to this year's contestants.
Don't forget to check out the KJ of the Year Award nominees. These are extremely talented individuals that have been voted the best by the Southern California Karaoke community at large from 4 areas: North L.A. County, South L.A. County, Orange County, and the Inland Empire. The winners will be announced and the awards presented at KaraokeFest by radio and television personality, KJ extraordinaire, and now successful author, Manny Pacheco. The truth is, each of these nominees is already a winner just by having been selected as a nominee from the huge number of KJs in Southern California. The KJ of the Year Awards will be presented at approximately 8pm. It is very important that the nominees be present at the event to receive their awards. Please plan to be on hand to show your support for these talented people who make such a positive impact on your Karaoke experience.
EVERYBODY SINGS! Don't forget, in addition to the main show, there will be multiple Karaoke stages located throughout the Fairgrounds where anybody and everybody can sing Karaoke all day long and into the night. Many folks make it a point to sing at each and every stage at least once. We wonder how many of you will be able to do that this year?
All you need to enjoy all of the special events and activities of KaraokeFest 2012 is a ticket to the L.A. County Fair which can be purchased at the gate or by visiting www.LACountyFair.com. The tickets are very reasonably priced and will be your passport to a thrilling day of the Fair, singing, deep fried everything and tons of fabulous fun! Gates open at 10am and the "Fair" is open till midnight.
ATTENTION! Karaoke Scene, is now offering the "Karaoke deal of the century," PREMIUM MEMBERSHIP! This is by far the best deal ever offered by Karaoke Scene. For less than the cost of coffee per month, you can have a Premium Membership to Karaoke Scene for an entire year with all of its many benefits. This is a deal you absolutely cannot pass up.
Karaoke Scene Magazine apps for your iPhone and iPad are now available at the App Store. Now you can have instant access to Karaoke Scene Magazine 24-7 right in the palm of your hand. Want to know who offers Karaoke shows on a given night? Want to review an article or check out an ad for a product or service? Grab your iPhone or iPad and check it out. Get yours today…it's FREE!
And if you haven't already done so, be sure to subscribe to the incredibly popular "Digital Edition" of Karaoke Scene Magazine. The "DE" offers everything that appears in our print edition plus much more! And it is available to you online anytime. And best of all…it's FREE!
See you all at KaraokeFest!
Leave a Reply
You must be logged in to post a comment.