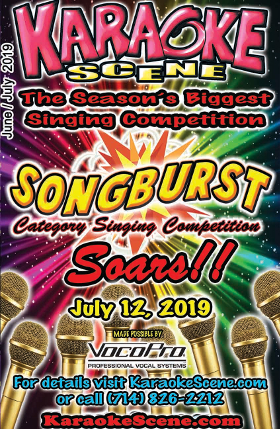 "IT'S CONTEST TIME!" By popular demand, Karaoke Scene is again presenting our exciting SONGBURST Singing Competition, a category competition embracing 6 genres of music. The categories include: Standards/Showtunes, Oldies, R&B/Soul, Top 40, Country and Rock.
There will be 6 venues hosting this contest and each venue will offer competition in 2 categories. For example:
STANDARDS/SHOWTUNES and OLDIES will be hosted at Westminster Lanes and Fraternal Order of Eagles/Bellflower.
STANDARDS include classic and modern crooners singing all-time favorites.
OLDIES consist of a wide variety of music from the years 1955 – 1980.
COUNTRY and ROCK will be hosted at The Starting Gate/Los Alamitos and Piano Piano/Claremont.
COUNTRY is a wide variety of traditional American music.
ROCK is a broad category with a definite edge.
R&B/SOUL and TOP 40 will be hosted at The Epic Lounge/Downey and Gem City Grill/Monrovia.
R&B/SOUL is made up of rhythmic sounds that include Motown, disco, and modern dance music.
TOP 40 is the largest category and consists of the finest tunes from 1981 to the present, the biggest hits from a wide spectrum of styles.
This is sizing up as one of the most fun contests ever so please don't miss it. For more details please see pages 4, 5, 6 and 7 of this issue.
SongBurst would not be possible without the generous support of our sponsor, VocoPro Professional Vocal Systems. We sincerely appreciate their support in making SongBurst happen this year, and it will be a ball! We strongly encourage you to show your appreciation to this fine company and their products.
Please don't forget the "Karaoke deal of the century," PREMIUM MEMBERSHIP! This is by far the best deal ever offered by KaraokeScene.com. For less than the cost of coffee per month, you can have a Premium Membership to KaraokeScene.com for an entire year with all of its many benefits. This is a deal you absolutely cannot pass up. Be sure to check out all the exciting details at KaraokeScene.com.
Don't forget…apps for your iPhone, iPad and all Android phones and tablets are available. Now you can have instant access to Karaoke Scene Magazine 24-7 right in the palm of your hand. Want to know who offers Karaoke shows on a given night? Want to review an article or check out an ad for a product or service? Grab your cell phone or tablet and check it out. What could be cooler than that? Visit the App Store or GooglePlay.com to get yours today! They're FREE!
See you all along the contest trail at SongBurst 2019!