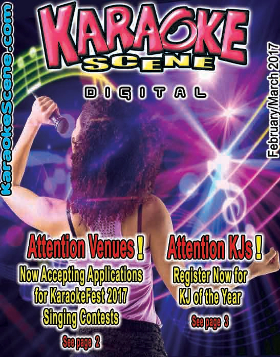 ATTENTION KJs!
The voting for coveted KJ of the Year Awards is coming soon. VERY IMPORTANT! Because of the difficulties of conflicting information and voters providing only partial or erroneous data, and in order to more accurately tabulate the votes, you will need to register at KaraokeScene.com to be considered for the honor of KJ of the Year. No personal information will be requested, only what we actually need to keep things orderly.
This will result in a ballot that is much more user-friendly and, most importantly, accurate. Voters will then be presented with a choice of registered KJs whose information has already been verified. When they vote, we will know precisely how, and for whom, that vote is to be counted. We are also offering some additional goodies to those KJs who register. Don't be left out of this year's KJ of the Year Awards. Please use this link KJ register Good luck to all!
Attention Venues
We are currently in the process of selecting the venues for our upcoming KaraokeFest 2017 singing competitions. Hosting these events is a huge advantage for any Karaoke venue. The number of hosting locations is very limited so if you would like your venue to be considered, please contact Karaoke Scene a.s.a.p. The sooner we hear from you, the better your choice of day of the week, etc. Contact us now at (714) 826-2212 or follow this link Club Registration.
Sponsorship
KaraokeFest 2017 has various sponsorship levels that are now available to qualified companies. KaraokeFest sponsors enjoy many great benefits. This is the perfect way to get your company name, products, and services in front of the entire Karaoke community. Sponsorships are limited and will be considered on a first come, first served basis. For sponsorship information, please call (714) 826-2212 or follow this link: KaraokeFest Sponsorship. Remember, the number of sponsors is very limited so be sure to contact us now!
Digital Edition
Karaoke Scene Magazine has now been digital for nearly 5 years. We are very excited to report that we now have more readers than for any of our printed editions. Not only that, but for those few who still favor the touchy-feely, any digital subscriber can print all or any portion of any digital edition any time they wish. Don't miss out! Subscribe now…it's FREE!
Another great way to access Karaoke Scene Digital is apps for your iPhone, iPad, or Droid devices. Apps are available at the App Store and Google Play. This means instant access to Karaoke Scene Magazine 24-7 wherever and you are…whenever you want. Want to know who offers Karaoke shows on a given night? Want to review an article or check out an ad for a product or service? Grab your smart phone or tablet and check it out. Why not keep the Karaoke world right in your pocket where you can access it anytime you want? Download your app now…it's FREE!
PREMIUM MEMBERSHIP!
Don't miss this "Karaoke deal of the century" It's the best deal ever offered by KaraokeScene.com. For less than the cost of a mocha cappuccino per month, you can have a Premium Membership to KaraokeScene.com for an entire year, and it is packed with benefits! It includes membership in Singer's Showcase, KJ Directory, club Directory and much, much more! This is a deal you absolutely should not pass up. Be sure to check out all the exciting details by visiting KaraokeScene.com today!