For those who do not not to use an all-in-one program for DJ'ing, these are from the survey GentlemanBronco referred to -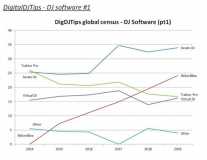 Please note the absence off any PCDJ products. The major leader in the industry is Serato, followed by a rapidly rising Rekordbox (Pioneer). I suspect the order may change next year - Rekordbox went to monthly software billing (like Adobe Photoshop) which DJ's don't like, Traktor finally will have "Smartlists", and VDJ introduced real-time Stems. Nonetheless, these are the "Top Four", and are in fact what you will find most "Professional" DJ's use. I suspect with the recent updates that Mixxx's percentage will also increase - besides being "free", it is excellent software.
They all have a slightly different work-flow and "feel", but what they share in common is Reliability and Library Management - probably the two most important factors for DJ's.
KJ'ing is different. IMHO,
Most
KJ's are better served by using a dedicated Hosting program separate from their DJ software, regardless of what has been profiligated here.